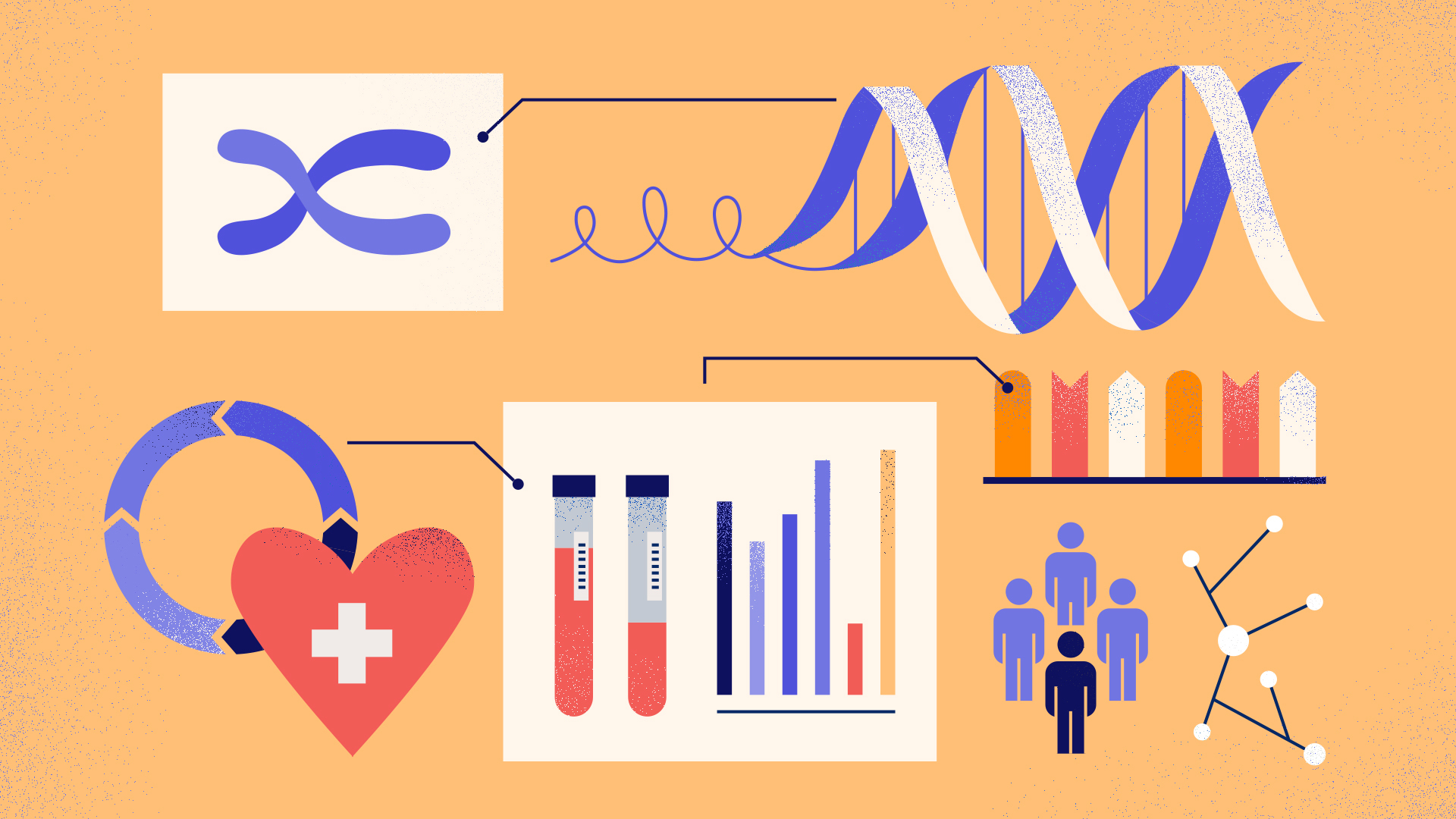 Real-world clinico-genomic data has been recognized across healthcare as a catalyst to spur potentially life-changing advancements in cancer care. In 2016, Flatiron Health and Foundation Medicine (FMI) began collaborating on a powerful resource for precision oncology, called the Clinico-Genomic Database (CGDB) which combines patient level genomic data with clinical data, resulting in a more complete picture of patients living with cancer.
Let's walk through how it works.

The CGDB integrates two essential, but very different types of data. Starting at the genomic level, Foundation Medicine contributes data from their comprehensive genomic profiling test, which provides information on more than 300 cancer-relevant genes and complex signatures to support treatment decisions. The clinical data comes from Flatiron's EHR database—deidentified datasets that include patients' demographic information, treatments, and clinical outcomes—all curated with three-month recency.

Integrating these different sources of real-world data allows researchers to have a more complete story about both the inner workings of cancer and the people who live with it. By helping researchers identify longitudinal outcomes for patients with specific biomarkers—including complex indicators like tumor mutational burden (TMB), microsatellite instability (MSI) status and PD-L1 results—the CGDB is unlocking insights that accelerate improvements in cancer care and treatments.
After just six years, the CGDB is the most robust and representative database of its kind. We've grown the linked database to include over 110,000 patients, whose data are sorted into 20+ disease-specific datasets and disease-agnostic data offerings – which has resulted in de-identified datasets available for licensing to Flatiron customers. One of the most exciting results of this growth is that many rare cancer cohorts have accrued to now be large enough for researchers to draw meaningful insights. For example, RET gene rearrangements occur in 1-2% of NSCLC [citation]. We've seen the number of patients in the CGDB with RET+ non-small cell lung cancer (NSCLC) almost triple in size since first launching this data product, helping to enable more powerful analyses like using the NSCLC CGDB as a comparator for a RET+ NSCLC clinical trial [citation].
The CGDB is not only keeping up with precision oncology's latest developments—it's driving new breakthroughs across the oncology field. Already, the CGDB has been used for more than 100 publications and abstracts. And with unprecedented access to data on rare patient cohorts, researchers can now work to identify trends, patterns and further insights that can be used to inform treatment approaches. This is incredibly exciting as we work to deliver on the promise of precision medicine—something that was hard to imagine a few decades ago, but can improve outcomes for patients and families.
For example, let's consider the U.S. FDA's approval of a drug for adults with a relatively rare form of NSCLC. The sponsor had promising results from a single arm clinical trial studying a KRAS G12C inhibitor in patients with advanced NSCLC. To supplement its new drug application (NDA), the FDA requested that real-world data be used to evaluate the natural history of patients with KRAS G12C advanced NSCLC to further demonstrate the value of this new targeted therapy.
By using the CGDB alongside other sources of data, researchers were able to conduct outcomes analyses to develop (1) publications on the characteristics and outcomes of patients with KRAS G12C NSCLC compared to the overall NSCLC population and, (2) include study reports in the NDA to provide context on the current standard of care for patients with KRAS G12C NSCLC. This was pivotal and ultimately led to an application acceptance from the FDA along with a reference to the sponsor's real-world study results in their multidisciplinary review. This type of collaboration is fundamental to CGDB's success.
Today, we now have a viable treatment option as real-world evidence plays an increasingly critical role to successfully fill the gaps in evidence generation for regulatory decision making. We can see that CGDB is just beginning to prove its value.
The CGDB is helping researchers design studies that are more impactful and inclusive.[1] It's helping underserved patient populations access new clinical trials.[2] It's helping biopharma companies strengthen their regulatory and post-marketing submissions with real-world evidence.[3] And it's helping regulators make more informed decisions about public health.[4]
Over the past six years, we have been inspired by the incredible potential of clinico-genomic data. Now, we're helping our partners put the CGDB to work across the drug-development lifecycle.
To that end, we're constantly thinking about new ways to make the CGDB both useful and accessible. For example, we are launching disease-agnostic treatment blocks to inform multi-tumor treatment sequencing and enable outcomes analyses across CGDBs in multiple diseases. In addition, we are working on launching an interactive data visualization platform with customizable filters to help researchers rapidly explore a variety of research questions using the CGDB. We also offer resources for anyone who works with the CGDB, from best practices for building RWE-based wild-type trial arms, to data methodologies that account for left truncation in survival analysis.
As part of our work to expand and evolve the CGDB, we're building out our data collection infrastructure with several new partners. This growth is purpose-driven: As we add more patient data to the CGDB, the database becomes more representative of the diverse populations of people with cancer. Statistical representativeness enables researchers and care providers to better tailor their approach to individual patients.
We are excited about the role the CGDB is playing to accelerate R&D and support in the approval and development of new therapies for patients. When it comes to cancer treatment, people deserve better than a one-size-fits-all approach. In hospitals and research centers around the world, the CGDB has the opportunity to revolutionize oncology care by making treatment more precise—and more personal—saving patients from pursuing the wrong treatments while ensuring that they're being included in the right clinical trials. Every patient deserves the kind of care that works best for them, and the CGDB can make it possible.