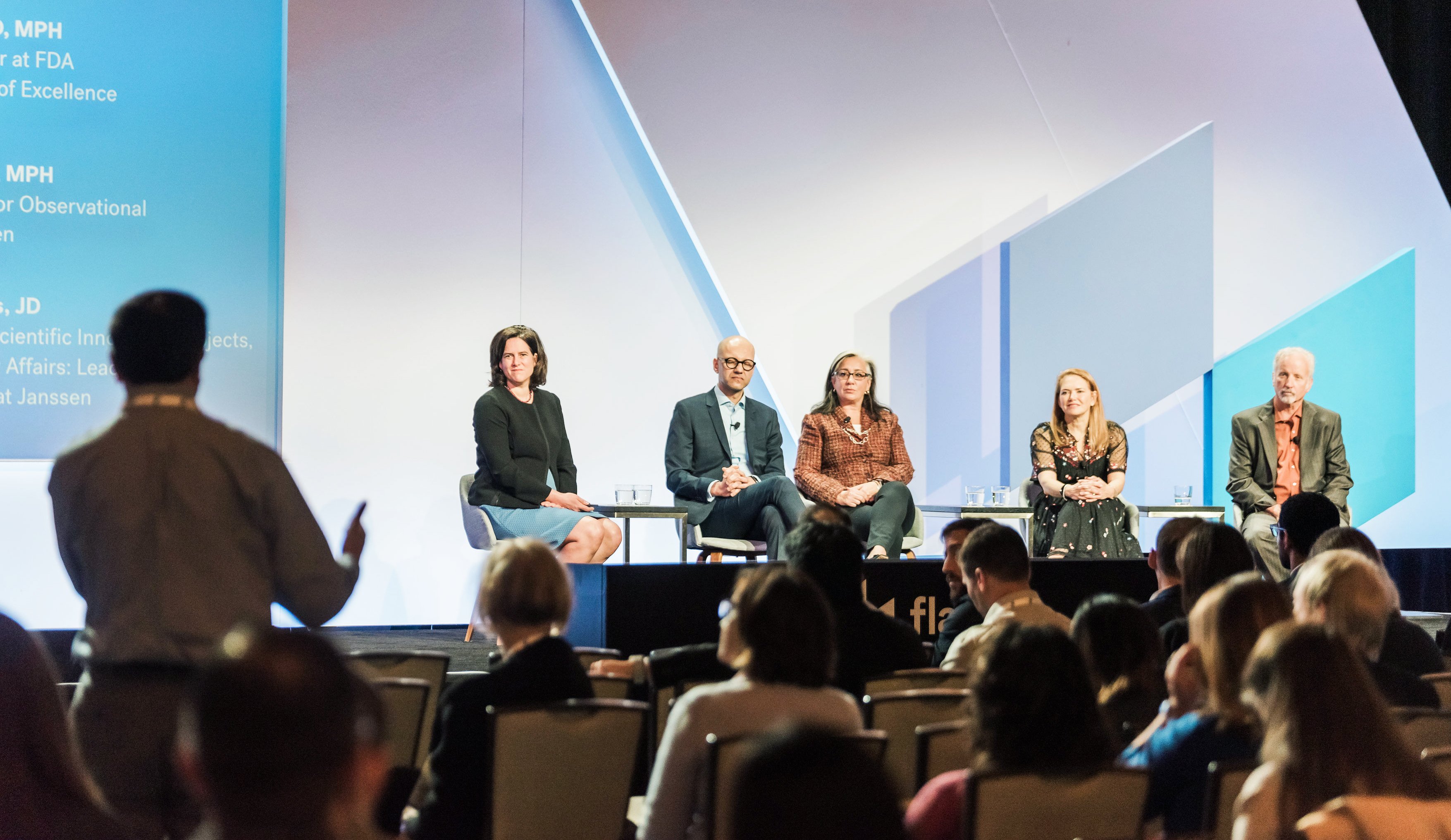 The advent of real-world evidence (RWE) in oncology presents a more hopeful future for cancer patients: new treatments becoming available years sooner and previously infeasible research questions can be answered. Even just last week, this sentiment was echoed by the FDA with the publication of their much-anticipated Real-World Evidence Framework .

This is the opportunity that Flatiron has squarely in its sights, but it's not something we could ever do alone. Advancing the use of real-world evidence requires the belief and cooperation of the entire industry — life sciences companies, providers, regulators, technology experts, etc. — to understand and test the appropriate applications of RWE.

In an effort to foster this type of collaboration, we convened our first-ever Research Summit in Washington, D.C., last month.
And here are some of the main takeaways…
Competitors were collaborating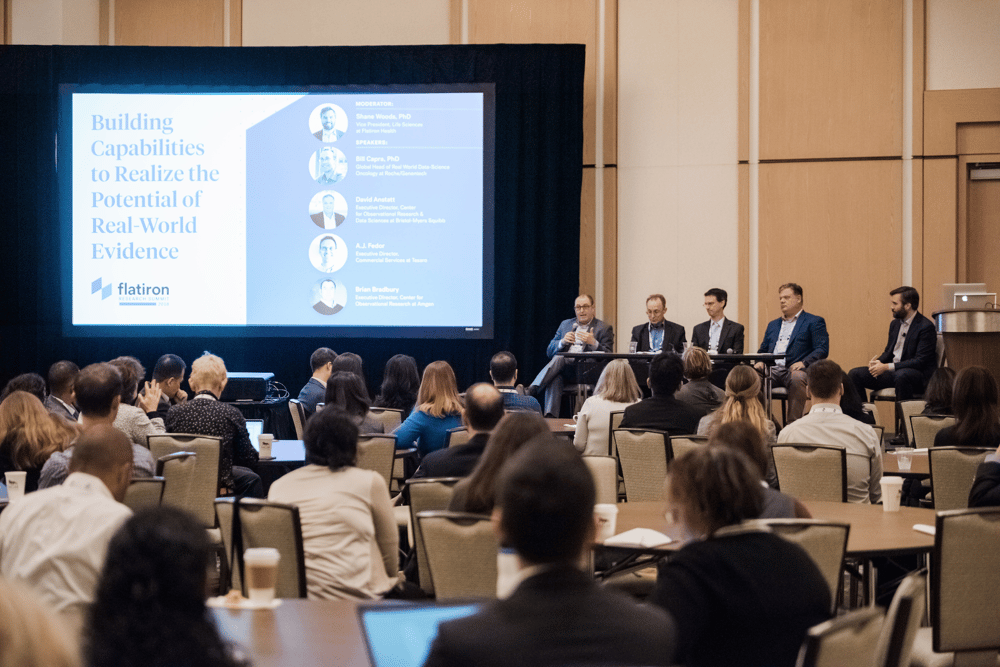 Left to right: Brian Bradbury, Amgen; Bill Capra, PhD, Genentech; A.J. Fedor, Tesaro; David Anstatt, Bristol-Myers Squibb; Shane Woods, PhD, Flatiron Health

On any other day, life sciences researchers would strictly regard each other as competitors, keeping plans and ideas close to the chest. But at the Research Summit, the mood was different. From the moment the lights dimmed to reveal the opening video , it was clear that the ask was to set the competition aside.

This was especially apparent amongst those who participated on the panel titled, "Building Capabilities to Realize the Potential of Real-World Evidence." The panelists had an open conversation ranging from how to identify and recruit real-world data science talent to revealing how to best leverage a single dataset across multiple teams. Sharing lessons learned from both successes and failures was one of the major themes at this year's summit.
Real-world external control arms were put to trial
One of the most exciting applications of RWE is in the generation of a real-world external control arm. Imagine a world where trials accrue twice as fast, where each consented individual is assured access to the experimental therapy, where small populations are able to power robust studies. At the summit, believers, skeptics and everyone in between came to discuss the science.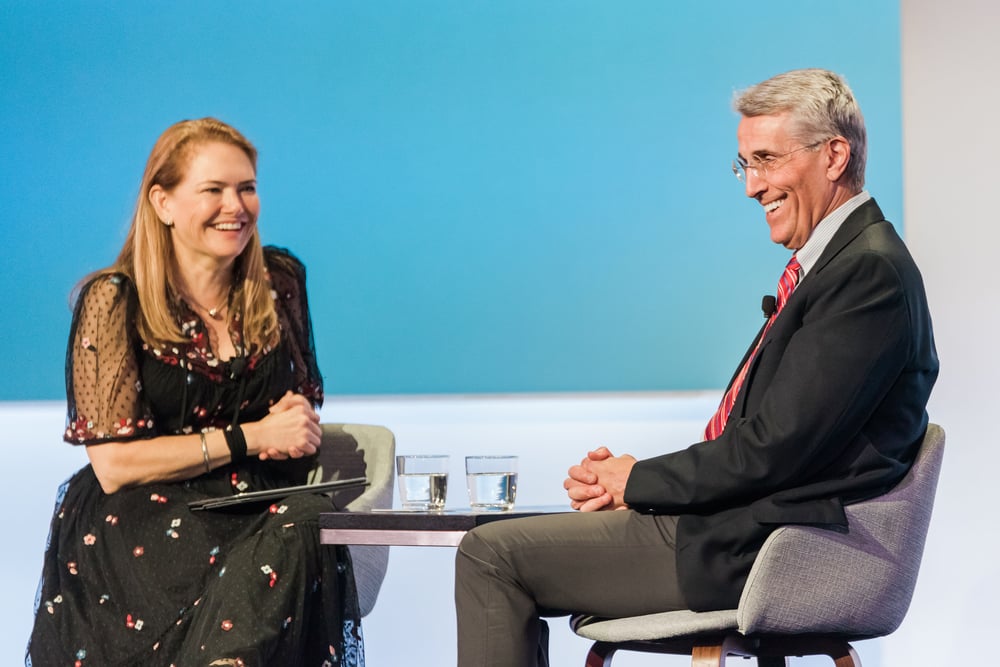 Amy Abernethy, MD, PhD — Chief Medical Officer / Chief Scientific Officer & SVP; Rick Pazdur, MD — Director at FDA Oncology Center of Excellence
R is for Randomization"
— Rick Pazdur
In a spirited discussion between Flatiron's chief medical & scientific officer (and
incoming
principal deputy commissioner of the FDA!) , Amy Abernethy, and Rick Pazdur, the director of the FDA's Oncology Center of Excellence, we dove head-first into the debate. While Dr. Pazdur emphasized the importance of randomization as the gold-standard approach to eliminating bias, it was clear to both Abernethy and Pazdur that there are a number of promising applications of real-world external controls.
"We were able to closely replicate the outcomes observed for a number of control arms by applying the trials' eligibility criteria to the real-world patients in the Flatiron network"
— Carrie Bennette

On another stage, Flatiron's Carrie Bennette, the FDA's Rajeshwari Sridhara and Roche's Jiawen Zhu, took the audience through the methods being utilized to generate and evaluate the performance of building external controls using real-world data. A highlight of the session was the tremendous progress in replicating the outcomes observed in published clinical trial control arms using Flatiron's real-world data. Many recognize this progress as an optimistic signal for the future of RWE and its potential to accelerate cancer research.
"Technology-Enabled Abstraction" is key to producing high-quality real-world data, and it's not easy

For the first time, Flatiron provided a deeper look into our technology-enabled abstraction process through the "Abstraction Lab." Attendees got hands-on experience with Flatiron's proprietary software by interacting both with data modules and connecting with our clinical data and abstraction teams. Participants were interrogating mock patient-records to tease out clinical details — from some seemingly obvious questions such as "is this patient deceased?" to more subtle questions such as "when did this patient's cancer progress?"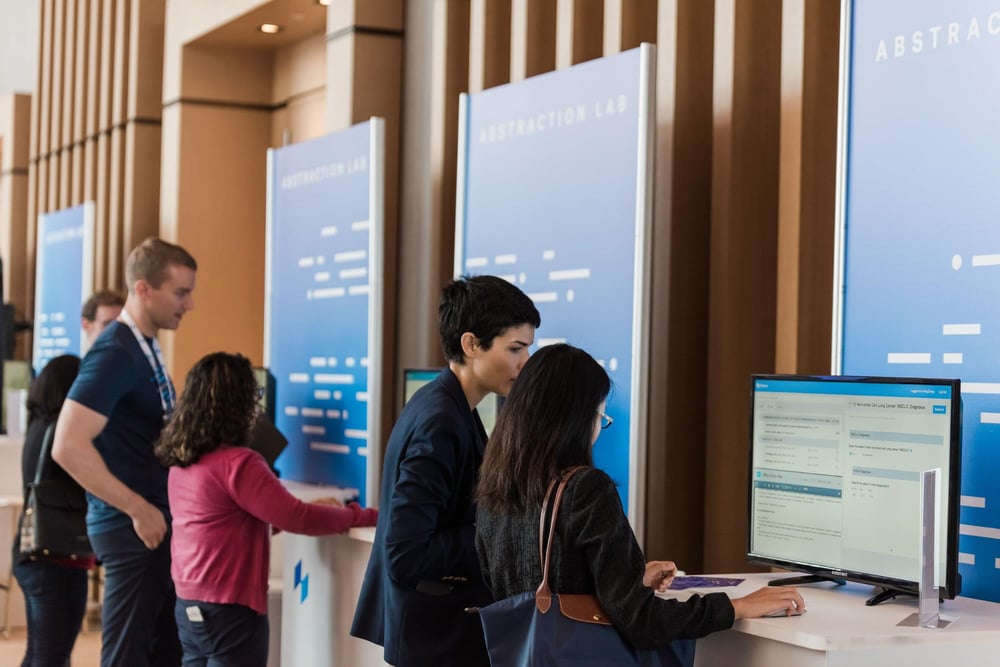 What was immediately clear to those who visited the Abstraction Lab was that many of the variables necessary for cancer research — mortality, progression, biomarkers, etc. — are not easily accessible through structured fields in the EHR. Instead, they require careful examination of doctor's notes, faxed pathology reports, handwritten scribbles, and the like. Getting the data points needed to ensure high-quality, comprehensive, recent datasets requires sophisticated technology, hard work and expertise from clinicians.
The role of machine learning in RWE is evolving

One popular session was on the role of machine learning (ML) and natural-language processing in the development of real-world datasets. The popularity was in no doubt due to the hype surrounding the potential of artificial intelligence in healthcare. Flatiron presenters shared three exciting case studies on how they've been able to use ML to scale the generation of real-world evidence and to enable new types of research, but they also made it clear that this technology needs to be used thoughtfully and is not a panacea.
Real-world endpoints are complex, but are showing great promise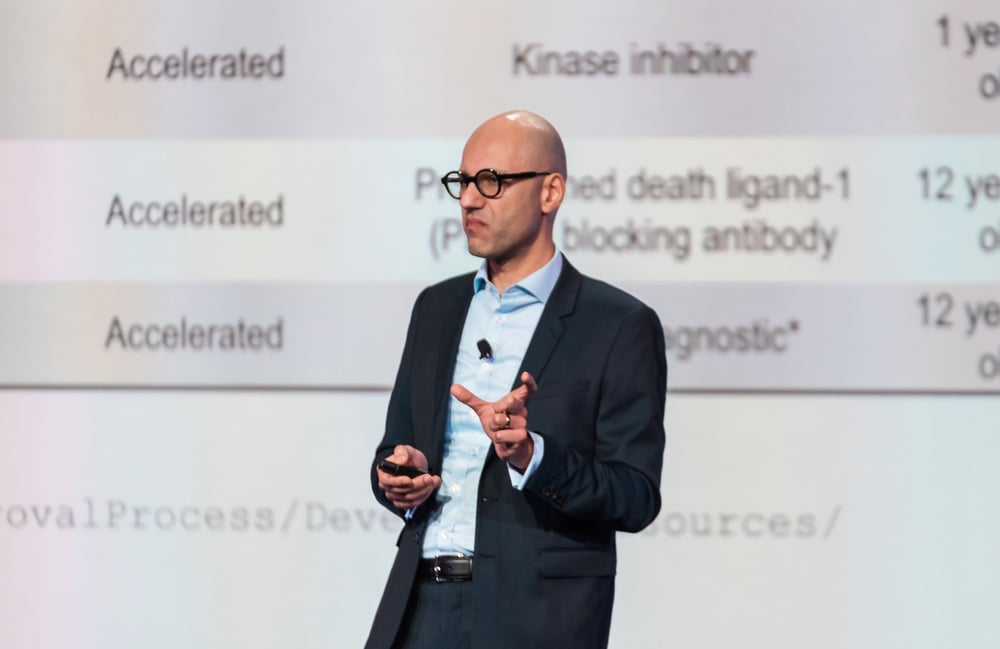 Sean Khozin, MD, MPH — Associate Director at FDA Oncology Center of Excellence
A handful of speakers, including Sean Khozin of the FDA's Oncology Center of Excellence, discussed the challenges as well as the progress in generating reliable endpoints from real-world datasets. The FDA has been a forward-thinking and collaborative partner, and Sean's presentation was no exception.
In his talk, Sean proposed a framework for contextualizing the many endpoints available to researchers working with real-world data. Rather than holding each endpoint to the same standard, he proposed thinking about them in three categories: "validated", "reasonably likely", and "candidate". While many real-world endpoints fall into the "candidate" category, he acknowledges that endpoints in the middle category - "reasonably likely" (e.g. Response Rate) - may be suitable for use in accelerated approvals.
Closing out the summit, the message was clear: the benefits of RWE are real and worth pursuing. But the future of RWE is only realized proof-point by proof-point. The first label expansion, the first novel biomarker, the first new drug application with real-world evidence at its core starts with a calculated, educated risk. As we at Flatiron learn more about where and how RWE can accelerate research and improve the lives of cancer patients, we eagerly look forward to the next Flatiron Research Summit where we'll learn from our partners' achievements and get closer to a future where we can learn from the experience of every cancer patient.
Author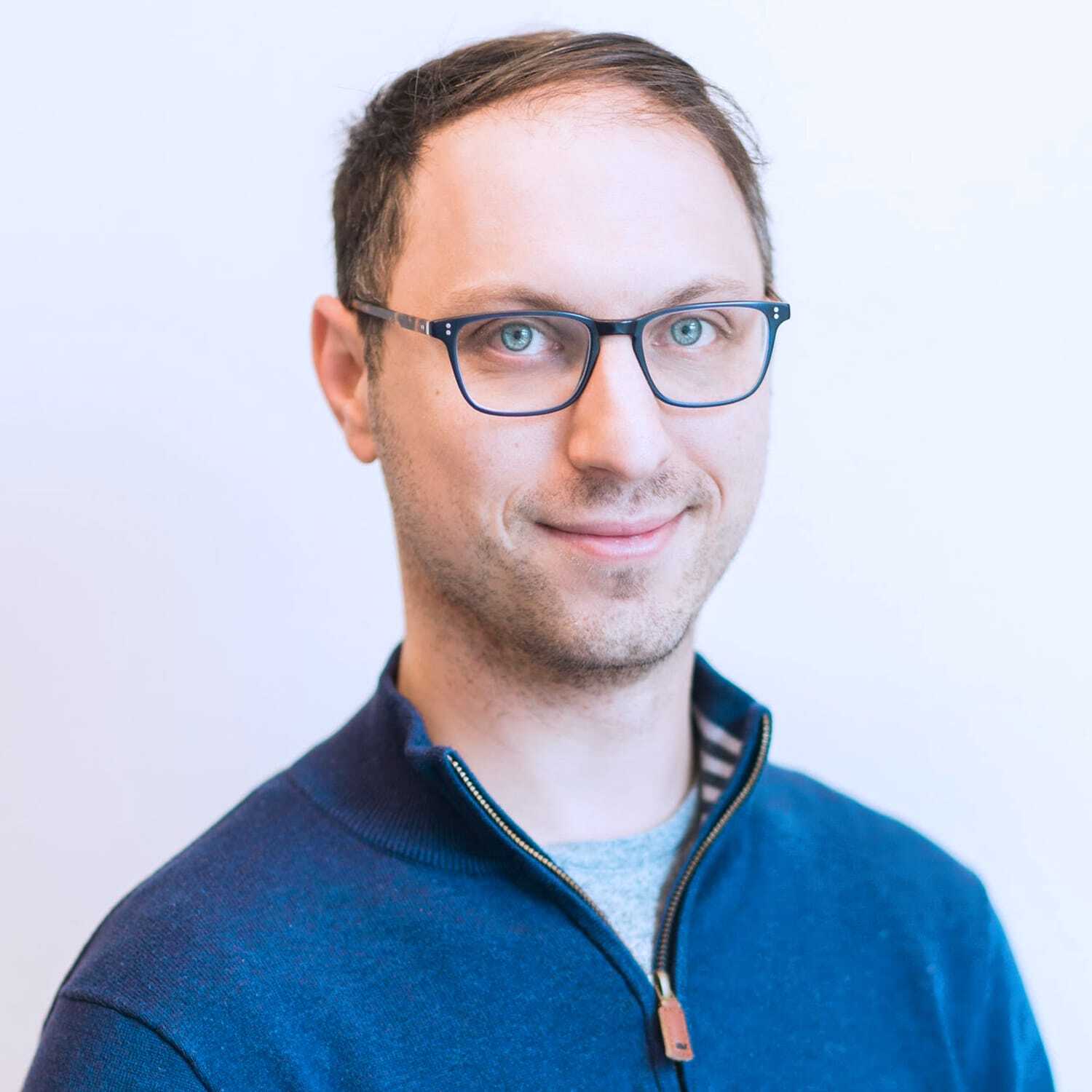 Alex Gorstan
Director, Marketing