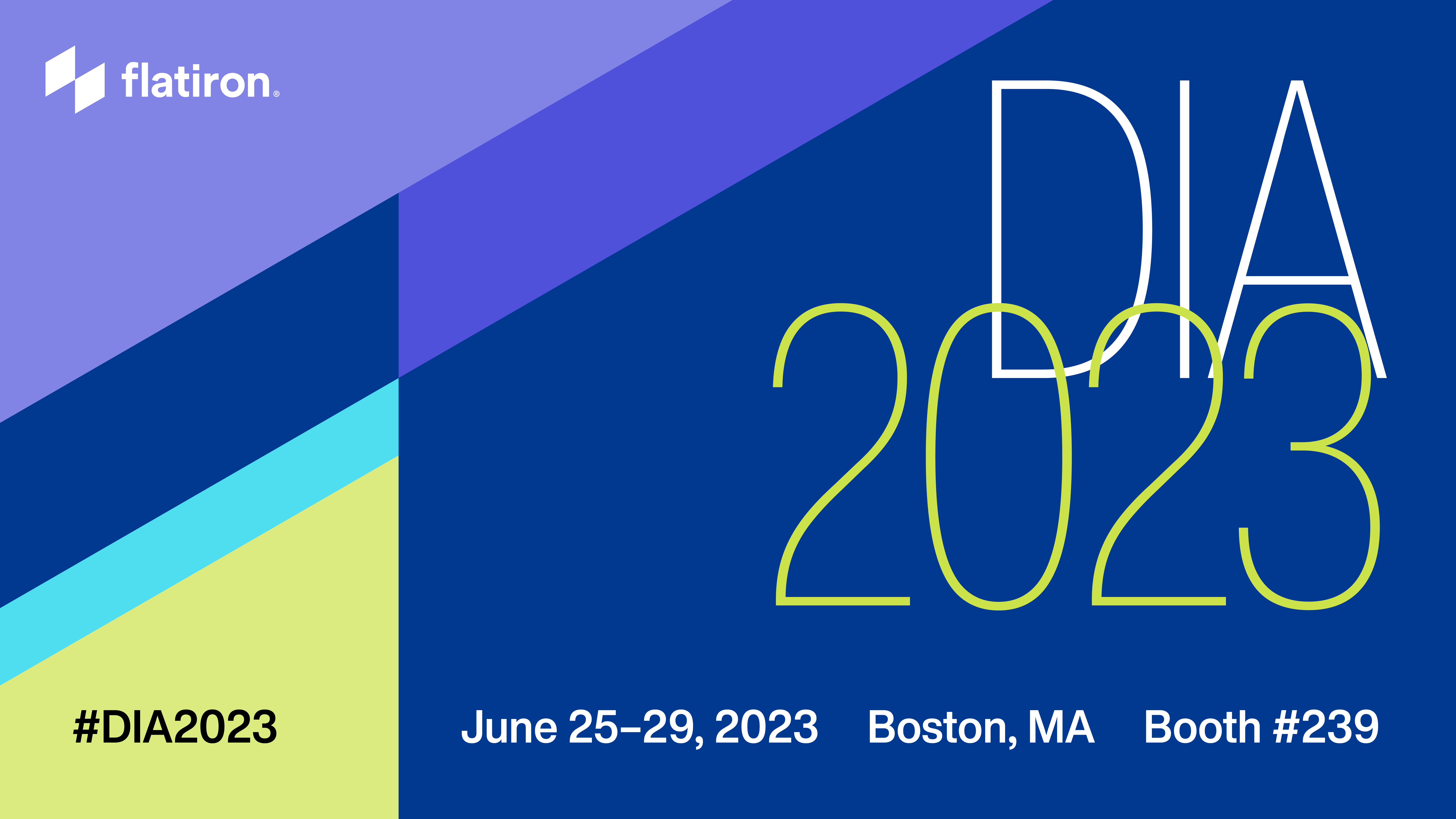 The theme of this year's Drug Information Association (DIA) Global Annual Meeting was "Illuminating the path to the future of healthcare." Over the course of three days in Boston, patients, biopharma and CRO professionals, regulators, researchers, and technology vendors came together to explore emerging trends, showcase innovative technology, and hold thoughtful discussions that light the way towards an ever-improving future for healthcare, and particularly clinical trials. While there were many indications of a bright future ahead, four learnings stuck with us most:
1. Intentional collaboration is critical to succeed in bringing improvements to clinical research
Throughout the opening plenary, diversity came up as an important theme for achieving healthcare success. Not only diversity in terms of demographic characteristics like gender or race, but also in terms of ideas. When people with different backgrounds and perspectives come together, important and necessary dialogue can occur to push our ideas further. This concept can also be applied to teams working together to achieve success in a clinical research setting.
In order to achieve the optimal trial experiences, we must ensure that all parties have a seat at the table to express their views—inclusive of patients, caregivers, sponsors, CROs, and vendors. Many of us have heard stories of siloed thinking gone wrong in the design of a clinical trial, for example, a study that employs a wearable device, only to discover that patients are embarrassed by the look and size and avoid wearing it, impeding data collection.
Involving all stakeholders throughout each part of the clinical research process can ensure that we avoid roadblocks such as this and create a better trial experience for all.
2. Addressing patient recruitment challenges requires multiple different approaches
On the heels of the 2023 Omnibus Spending Bill, requiring diversity action plans for clinical trials, it was no surprise to hear patient recruitment and trial representativeness as a key theme at DIA this year. The discussions highlighted the importance of addressing patient matching challenges through multiple approaches, including:
Designing more optimized inclusion/exclusion criteria

Ensuring providers are alerted to patient trial eligibility at the point-of-care to prevent them from being overlooked

Allocating more time (or at least sufficient time) for busy site staff to spend with patients discussing trial options and answering questions
It was also evident that using technology, such as patient identification and matching tools, is critical to operationalizing these approaches most efficiently and effectively.
3. While many people and companies have started to employ artificial intelligence (AI), it should be used to enhance, rather than eliminate, human intelligence
One of the most widely discussed topics of this year's conference was the explosion of AI solutions to transform clinical trial operations. From using AI for patient finding, transcribing physician voice notes, managing and analyzing data, and much, much more—it's clear that our industry is rapidly experimenting and evolving with this powerful technology. However, discussions were also quick to note the cautions with AI, particularly that these technologies are only as good (and unbiased) as the data they are trained on and thoughtful human prompting and interpretation is necessary to use the outputs accurately.
For AI to succeed in bringing positive change to the clinical research ecosystem, we must use this technology to supercharge our human intelligence, creativity, and empathy, rather than replace it.
4. Embracing innovation can be challenging, but incredibly worthwhile
With all the buzz around exciting new technology, the natural question among many attendees was how do we actually implement this? While our industry is keenly aware of slow timelines, high trial costs, and overall inefficiencies that can be eased through new technologies, many need guidance and support to make these changes a reality. Some of the top tips we heard included:
Fostering an open and transparent environment among all stakeholders involved in technology implementation

Acknowledging that technical issues are bound to arise and setting clear expectations to prepare for them as much as possible, and

Developing clear, stepwise implementation plans, along with thoughtful feedback loops for sharing issues and successes.
While adoption may require overcoming regulatory hurdles and large changes to existing workflows, the benefits of improved trial operations and ultimately better patient care far outweigh the initial challenges.
Despite some lengthy travel delays, we returned to our homes and offices last week energized by the fresh ideas and perspectives gained at DIA 2023. We look forward to applying these learnings, and more, to our vision of building a world where technology and science bridge the gap between care and research.
Interested in learning more about how Flatiron can help you reach the future of clinical research?
Get in touch today