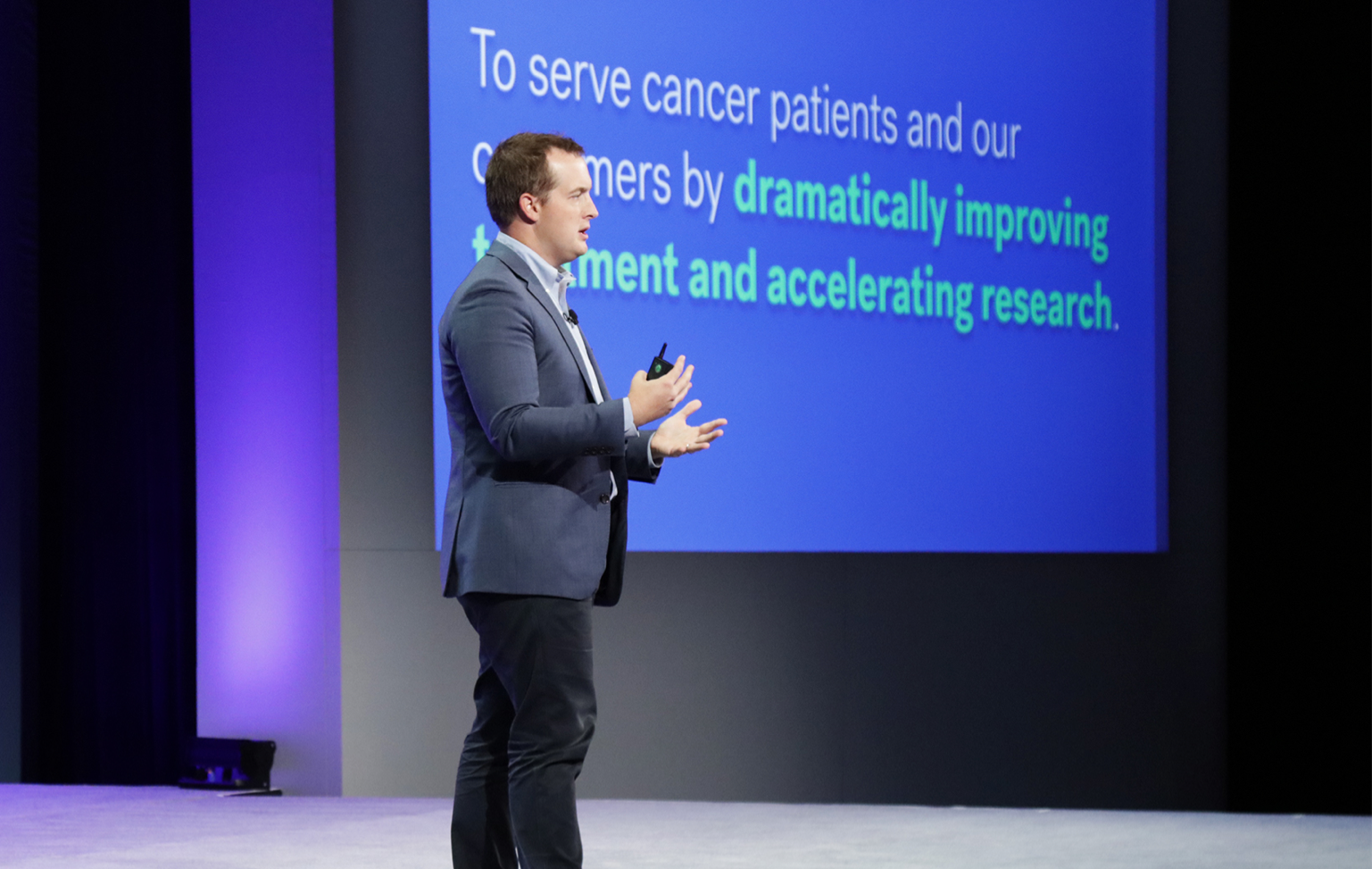 With another OncoCloud conference in the books, I am again reminded why I love working at Flatiron Health. Our conferences provide the opportunity for leaders in community oncology to come together in one place, share valuable knowledge, and ask the really important (and sometimes tough to answer) questions. From the many workshops, general sessions and guest speakers, to the Ask the Experts and new features booths, our customers and partners spent three days immersed in the reimbursement and regulatory landscape, financial and operational best-practices, product updates and clinical workflow enhancements, clinical research innovation, and much more.

On Friday, the first day of the conference, customers joined us at Ask the Experts as ambassadors of their practices, tasked with solving some of the significant challenges that they face -- everything from disease staging to reimbursement. We packed the Encore's hotel ballroom with OncoEMR and OncoBilling experts as well as Flatiron team members who specialize in MIPS/MACRA, value-based care, the Oncology Care Model and Patient Assistance applications.

We were pleased by the response given to our customer support and account management teams -- one customer even brought us cookies on behalf of their practice as a "thank you"!

Nat Turner, Flatiron's co-founder and CEO, kicked off Saturday's sessions alongside Tesh Khullar, SVP, Flatiron HC'Ñ¢ Solutions, and Robin Shah, VP, Flatiron HC'Ñ¢ Marketing & Strategy. Dr. Bobby Green, head of Clinical Oncology, and Keith Cowing, head of our Product Management team, then "lifted the hood" by going through a deep-dive into our product roadmap, providing a sneak peek of some of the features and updates that we are working on.

In addition to another busy day at Ask the Experts , we held workshops across a range of topics, including "Navigating Today's Distribution and GPO Trends" and "Clinical Research in Community Oncology" -- there was literally something for everyone! Following this info-packed day, Flatiron Health and their guests were invited to the Wynn Hotel for an evening of fun - providing the perfect atmosphere for us to mingle, dance and have a good time. Emphasis on the "dance"!

Before the conference ended Sunday afternoon, we were treated to an informative talk from Dr. Robert Califf, former commissioner of the FDA and current advisor at Verily Life Sciences, followed by a discussion between him and Dr. Amy Abernethy, Flatiron's Chief Medical Officer and Chief Scientific Officer.

The conversation between Dr. Califf and Dr. Abernethy was not only about the clinicians in the room; it was about the importance of the collaboration within and across practices, all working towards the same goal: improving cancer treatment options and significantly accelerating research. Their talk and ensuing Q&A capped off an inspiring weekend, ending the conference on a note of unity.

I'd say that OncoCloud was a very successful gathering where clients not only learned about Flatiron and the products we offer, but equally as important, for Flatiron to get greater insight into what our customers need from us to continue treating their patients to the best of their abilities.

Shonda Clements, Director of Quality Programs and Information Systems at Virginia Cancer Institute, acknowledged our efforts after she returned home from the weekend in Las Vegas: "My favorite thing about working with Flatiron is the ability to give feedback, knowing that there are people invested in taking that feedback and using it to improve the system."

What happens in Vegas might stay in Vegas, but we hope that what everyone learned in Vegas, won't stay there! Cheers to OncoCloud - see you in Nashville for OncoCloud '18!
Author
George Moore
Manager, Customer Support