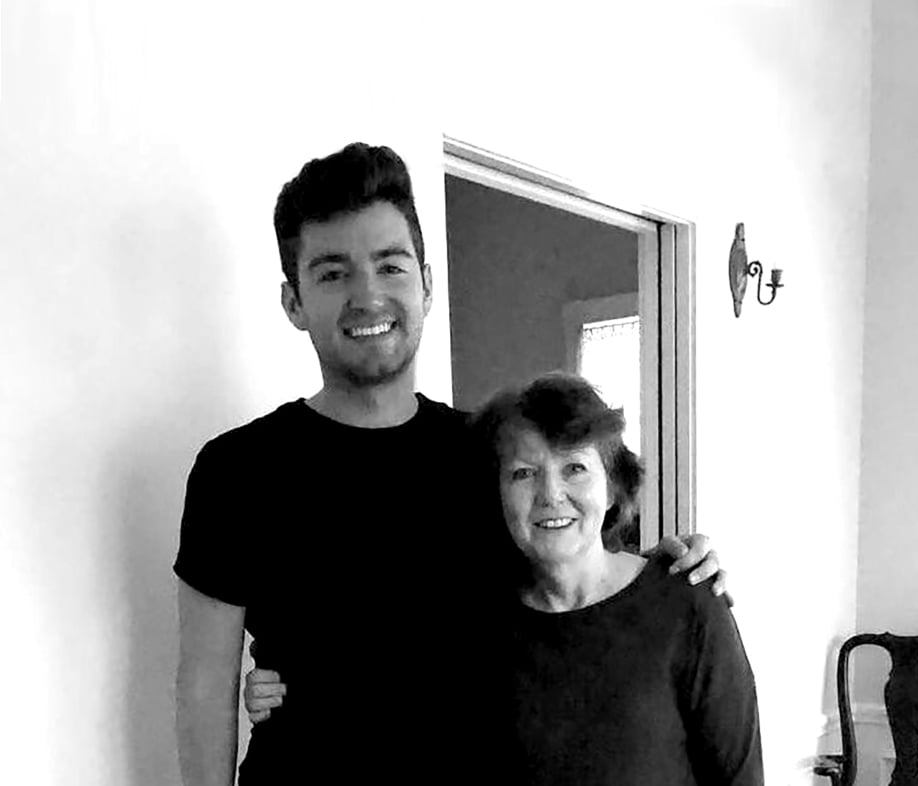 Patrick Gonzales was 15 when his mother was diagnosed with follicular lymphoma. She was a scientist at a local hospital, specializing in microbiology. She'd slip upstairs every morning for hours of intravenous chemotherapy, working on a laptop as the chemotherapy wove its way through her thin arms towards the cancer.

Her family didn't need to know. She hid it from them, acting as if her lymph nodes weren't swollen and painful, like she wasn't bone-tired as each long day stretched itself into another charcoal night.

She had a good wig, made from real hair, brown and dense and carefully cut into layers. She brought the wig to the hairdresser and told them to cut it like Reba McEntire.

She bought a new car, American-made, with a moonroof. On a drive to the beach one beautiful August afternoon, Patrick begged her to open it. It wasn't until years later that he learned why she'd refused for ten straight minutes: she was afraid her Reba wig would blow up and out the roof of the car.

Chemo held the cancer back for two years. Eventually, it transformed into something more aggressive, something she couldn't hide – diffuse large B-cell lymphoma (DLBCL). She sat her kids down on the green den couch and told them she'd be gone for three months. She was going to Memorial Sloan-Kettering Cancer Center (MSKCC), where she would receive an experimental umbilical cord blood transplant from Dr. Juliet Barker. That's where Patrick would eat Thanksgiving dinner his junior year of high school –- right by her hospital bed, in what she called her "Upper East Side apartment."

When Patrick graduated college with a degree in business, he went straight back to MSKCC, working in data management in hematology oncology. His job was to create structured data from the cluttered clumps of history in patient charts. His job was to pull data points from hundreds of charts into a single, coherent story. In all those months he spent pouring over the details of lives won and lost to blood cancer, he learned the unspoken specifics of his mother's disease, too.

Dr. Amy Abernethy, Flatiron's Chief Medical Officer, visited MSKCC to speak as an industry expert about the importance of data collection and analysis, and Patrick was there, listening, on the edge of his seat. He understood instinctively her message about the importance of complete, comprehensive data as a novel approach to cancer research. Clinical trials are only one part of cancer's larger story. He wanted to contribute more – more patients, bigger data, fresh hope. He researched Flatiron, and applied.

Emily Lauer walked into Patrick's third-round interview and introduced herself. It was a Thursday in October, Patrick wore blue gingham and sipped water from a giant glass cup. They discussed his qualifications, what kind of work he was looking for. Emily mentioned that she came from MSKCC, too. She'd been the research assistant for Dr. Juliet Barker, helped to manage patients on her clinical trials – the ones receiving cord blood transplants.

Patrick and Emily work together now, building models to improve unstructured data collection in hematological cancers. Flatiron's first dataset delivery to clients on follicular lymphoma and DLBCL will be in the coming year. His mother is thrilled.