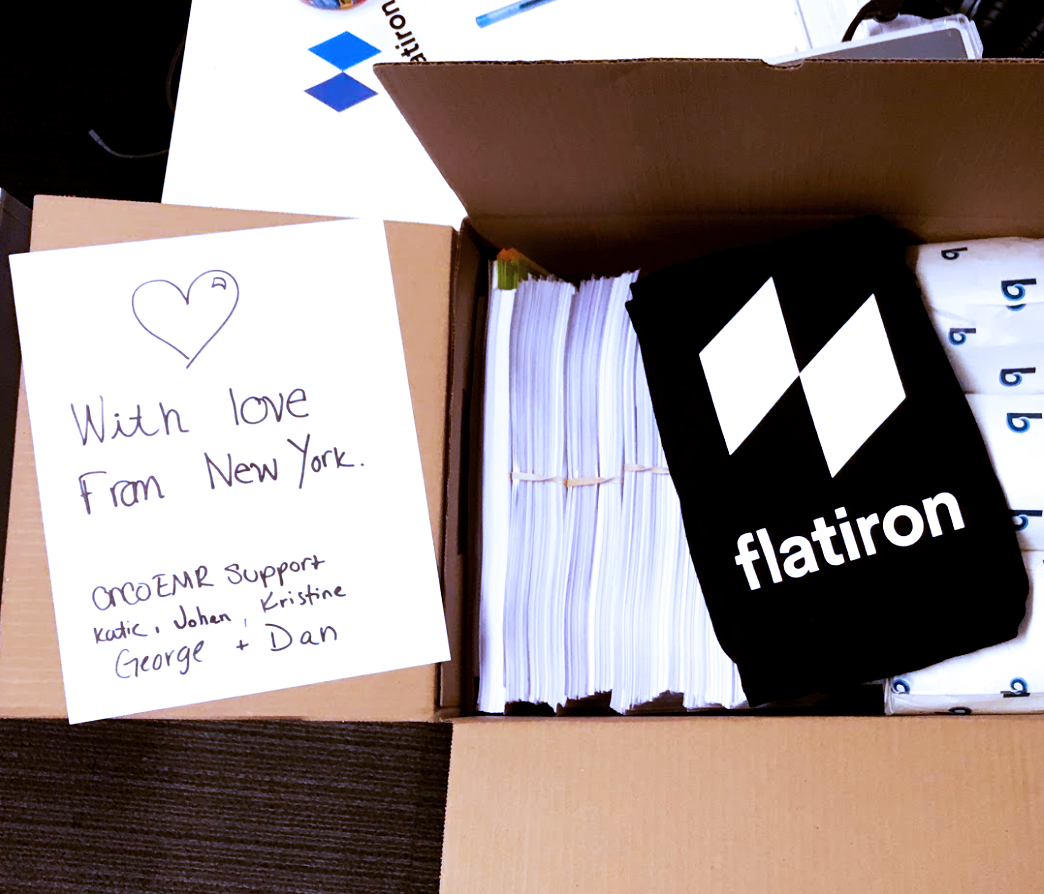 It was mid-September, in the midst of hurricane season, with weather reports warning of impending storms, when the Flatiron team sent out a fairly standard email communication advising potentially affected oncology practices to print out a week's worth of visit lists, orders and essential patient data in the event of an internet or power outage. Little did we know, disaster would soon strike, rendering our well-intended, straightforward advice relatively useless. In never-before-seen devastation, two back-to-back Category 5 hurricanes would ravage the Caribbean, leaving catastrophic damage in their wake.

Contact with our physicians and practice administrators on the islands, both in Puerto Rico and the Virgin Islands, was limited if not altogether impossible following both storms, Maria in particular. The exceptional team including both Terry Santa (Director, Application Services and Optimization, and a Puerto Rican native) and Jeff Beck (Director, Clinical Services), who, on top of their day-to-day roles also manage our practices in Puerto Rico, were attempting outreach almost nonstop in the days that followed Hurricane Maria, without much response. We knew from news coverage that it was bad, that many of our practices likely had no internet, but it was only when my colleagues from the Engineering and Product teams began to pull daily activity data did we realize that it was even worse than we had imagined.

The charted data illustrated an absolutely devastating state of affairs for cancer patients in Puerto Rico: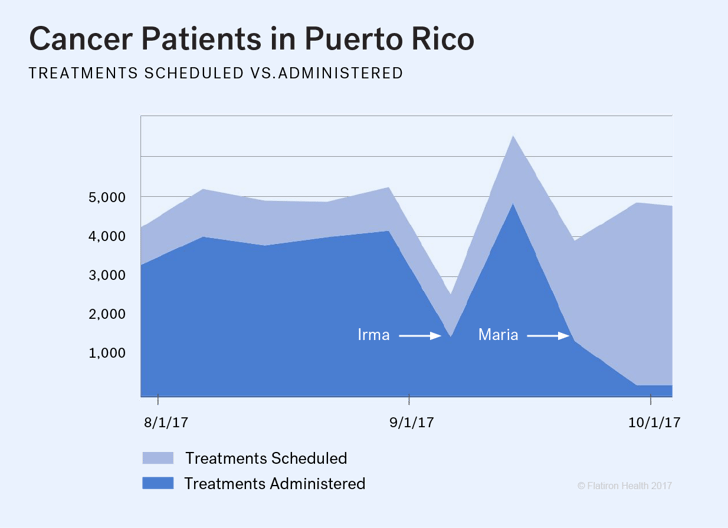 Our data showed that the majority of the practices in areas affected by the hurricanes were almost entirely unable to digitally access their patient records, and that relatively no login attempts had been made. This was likely due to lack of power and internet. This data, along with the news of outages, near impossible travel on the island of Puerto Rico itself, and overall damage, it was hard to imagine that cancer patients were getting the life-saving treatments that they needed.

As contact with our customers in Puerto Rico began to pick up little by little, we brainstormed ways that we could help. It was then that Terry was contacted by a business associate of one of our Puerto Rican-based oncologists, as he had no way to reach out, but was especially in need. He desperately wanted to be able to treat his patients despite the lack of power and internet. It was at this point that an almost miraculous series of quickly developing events allowed for a plan to come to fruition.

On Friday afternoon, through various connections, we were able to track down a private plane that was carrying supplies from New York City to Puerto Rico the next morning. We decided that we would print as many useful and necessary patient records from that oncologist's practice to facilitate upcoming anticipated appointments, box them up, and fly them to San Juan where the practice administrator would pick them up and drive them to Ponce where the practice is located. Both Dan Hoffkins (Director of Support) and myself simply started running reports and printing, just the two of us, on the two secured printers available at the office. Though a seemingly simple task, it very quickly became clear that it was an enormous undertaking that would involve hours upon hours of work. The doctor had hundreds of patients to see over the next few days in clinic, each of whom had dozens of critical labs, reports, and orders that he needed to inform any treatment decision.

Once other colleagues became aware of the task at hand, our office operations team ran out and purchased six printers, carried them back to the office, after which our IT team volunteered to get them setup to print thousands of documents. Four other members of our Support team spent the next five hours printing. In that time, we were able to compile three weeks worth of visit lists, relevant patient orders and crucial patient treatment and diagnostic information for every single patient being seen during that period of time.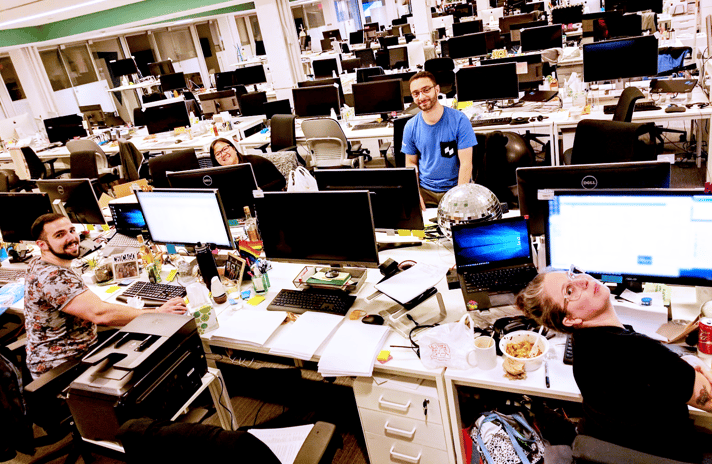 From left to right: George Moore, Kristine Tolentino, Johan Kamyab, and me taking a quick camera break while hustling to print as many of this practice's records as possible

Once printed, we boxed up the documents, added some basic supplies and t-shirts, and sealed them securely. We dropped the boxes off at the home of our CEO, Nat Turner, and then he drove them to the chartered plane early that next morning. At 7:36 AM, he sent the team a message, "Records have been dropped off at the plane." It was then just a waiting game to find out if those critical documents would actually get to the oncology clinic in Ponce.

I checked our internal messaging platform every 20 minutes that day for updates, and felt indescribably overjoyed to find out that by early afternoon, the plane carrying the documents had landed in San Juan and were being transported to Ponce. I was just so relieved that this oncologist had what he needed from his electronic health record to treat his patients.

But it wasn't long until I remembered that these documents were for one physician, at one practice. A nurse at another practice in Puerto Rico contacted us that same weekend, saying, "We have limited internet access, and only have copies of treatments until Wednesday. I heard today that distributors were running out of IV solutions. We are also having problems with special pharmacies [where they get their drugs]; they are delivering very slowly." Clinicians across the island -- not just this one practice we helped -- were hard pressed to access their electronic records or crucial medications needed to treat their patients.

Though we know that most of our practices in Puerto Rico and the Virgin Islands have since been able to log in and gain access to their patients' electronic health records, the power and internet are still intermittent and spotty. I found myself coming full circle and sending a similar communication out advising them to print their necessary documents whenever possible, and re-assuring them of our support. While this was a truly amazing coming together of minds and sheer determination, I do not want us to forget that Puerto Rico, along with the Virgin Islands, still need our help and that this is going to be a long road to recovery. A long road to re-built and safe housing, to clean drinking water, to adequate medical supplies, and to the necessary and consistent administration of life-saving cancer treatment.