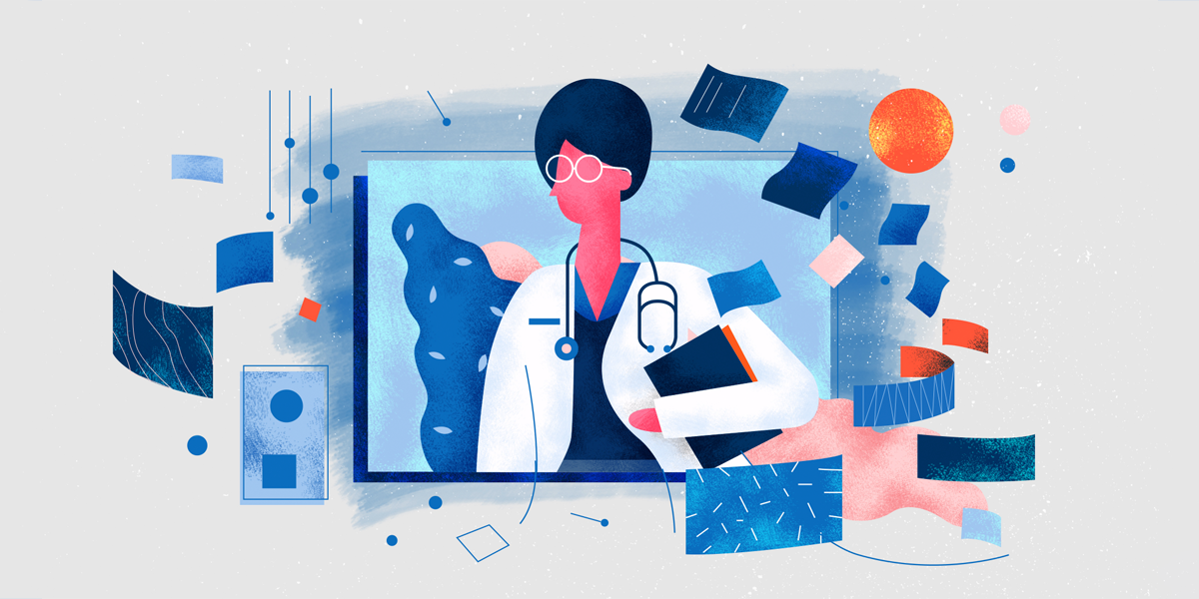 After five years, the Centers for Medicare and Medicaid Services (CMS) is finally phasing in its approach for controlling advanced diagnostic imaging utilization through the Appropriate Use Criteria Program (AUC).
It's important for community oncology practices to understand how and when they will be affected.
Here are three things you need to know about AUC:
1. PAMA, AUC, qCDSM…what does it all mean?
Established through the Protecting Access to Medicare Act (PAMA) of 2014, AUC directed CMS to require physicians to review specific criteria before ordering imaging services. Once implemented, physicians will be required to document that they consulted a new technology called a "qualified clinical decision support mechanism" (qCDSM) via HCPCS modifiers on claims every time a PET, CT, MRI or other nuclear medicine study is ordered for a Medicare patient.
KEY DEFINITIONS
PAMA —

The Protecting Access to Medicare Act of 2014 established a program to increase the rate of appropriate advanced diagnostic imaging services provided to Medicare beneficiaries.

AUC —

Appropriate use criteria are evidence-based criteria developed or endorsed by national professional medical specialty societies or other provider-led entities (PLEs). AUCs help furnishing professionals make the most patient-appropriate treatment decision for the specific clinical condition.

qCDSM —

A

qualified clinical decision support mechanism is a CMS-approved electronic tool for clinicians to consult when ordering advanced diagnostic imaging. This tool ingests clinical and demographic patient data in order to provide evidence-based decision support (AUC) when ordering advanced diagnostic imaging.
2. When is all of this happening?
You may have seen the AUC implementation date of January 1, 2020. Don't be alarmed.
CMS refers to 2020 as an "educational and operational testing period," or in other words, a "soft launch" where participation is not mandatory, but encouraged. AUC is a significant program to prepare for, since it will impact technology utilization and workflows at your practice. To assist with the transition, CMS is using 2020 as a testing year to provide practices ample time to become accustomed to the program. You will not be penalized for incorrect or lack of reporting during 2020. Claims will not be rejected until January 1, 2021, at which point your practice must have a qCDSM in place and subsequent HCPCS modifiers associated with each advanced diagnostic image order. That being said, it is important to use 2020 as an opportunity to understand the impact on workflows, patient care and staff.
3. How can we prepare?
You're here, so you're already doing well. Beyond having a fundamental understanding of AUC, to be set up for success, it's also important to identify a clinical champion to drive buy-in and adoption at your practice. Once you've identified a strong team to be your AUC experts, begin to familiarize yourself with approved qCDSM technology.
Finally, understand how your EHR will support you. As an EHR developer for community oncology practices, we know how important it is that new regulatory requirements become a part of, rather than a disruption to existing workflows. We're excited to announce that Flatiron will support an integrated solution (details coming soon!) that will allow your team to leverage clinical decision support technology for advanced imaging orders for Medicare patients — all without leaving OncoEMR®. Clinicians will be able to walk through decision support workflows and select the order they deem appropriate based on AUC, right at the point of care. On the back end, all the information required by CMS for billing will seamlessly flow into your order, ready to be sent out to a furnishing provider or performed in-house and billed out appropriately.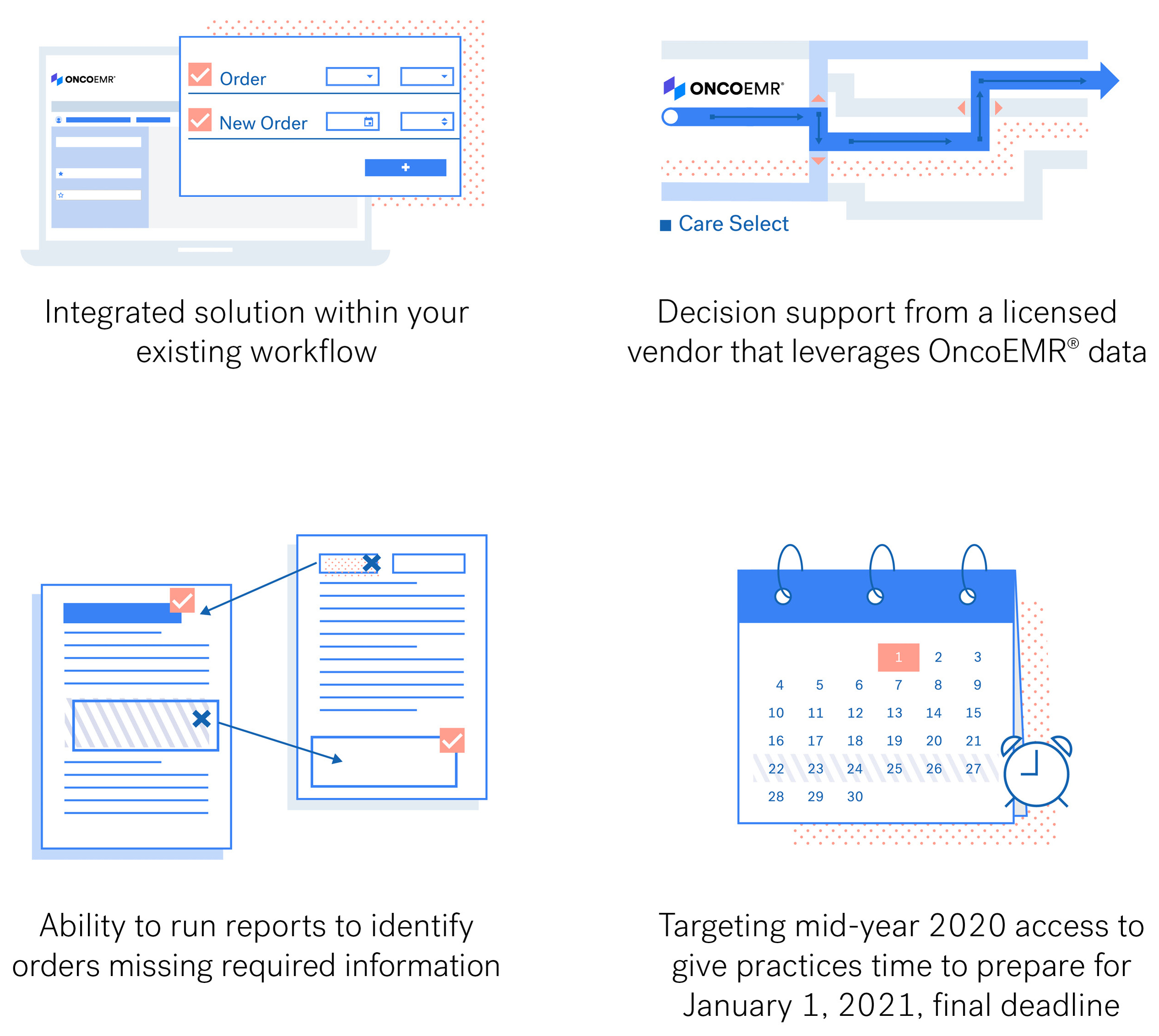 We know what you're thinking
It's understandable to initially think of this as another regulation that will increase administrative burden, slow us down, and worse yet, potentially impact patient outcomes.
We know this is more work, but let's take a look at this through the lens of another utilization oversight program.
With CMS Administrator Seema Verma's "Patients over Paperwork" initiative, CMS is being tasked to develop innovative methods of information gathering that have minimal disruption on patient care. While Verma believes utilization oversight is necessary because it can drive appropriate care and help control exploding healthcare costs, it can and has placed a tremendous burden on providers and their patients. Enter AUC, which could be a glimpse into the type of solution for which Verma is advocating. Rather than potentially delay care by requiring prior authorization (as seen in the private sector), Medicare can drive the use of new technologies and data entered at the point of care as evidence of appropriate utilization of certain high-cost or potentially over-utilized services. Studies have already indicated preliminary evidence that leveraging qCDSM tools and AUC for advanced diagnostic imaging can lead to a reduction in over-utilized imaging. Additionally, within the private sector, there has been preliminary success in the formulation of value-based arrangements between health systems and commercial payers, eliminating prior authorization contingent upon compliance with AUC training.
AUC can also prove beneficial to practice leaders focused on initiatives standardizing care and improving overall quality. For example, data generated through AUC can be used to understand deviations in compliance in order to intervene with care teams appropriately and to inform commercial payer contract negotiations, using concordance data to demonstrate quality.
Ultimately AUC will be a trial in assessing effective methods for controlling costs, not dissimilar to the reasoning behind the implementation of other larger-scale programs, such as the Oncology Care Model (OCM). Within our network, we've seen the OCM successfully drive community oncology practices towards a value-based paradigm. If successful, AUC could lead to a reduced number of unnecessary and expensive imaging tests via more standardized and evidence-based decision making.
However, with the learning period just beginning next year, it's simply too soon to tell. AUC's success will ultimately depend on how it's implemented by this newly formed quartet: EHRs, qCDSMs, CMS, and the end user, physicians. Dr. Stephen Schleicher, a physician at Tennessee Oncology says, "Minimizing overuse of diagnostic services is important in oncology as we shift to value-based care. However, this must be balanced with the potential increase in administrative complexity (which was shown by Shrank et al. in JAMA to be the highest driver of healthcare waste) from documenting AUC for every image needed for our patients. Tools provided by Flatiron and others to streamline these requirements into our daily workflow will be imperative to ensure we can continue to spend time with our patients instead of checking more boxes to provide the care they need."
For any questions or comments, please reach out to Ashley O'Connor, Strategic Initiatives Manager: aoconnor@flatiron.com.