An EHR-to-EDC application that both captures and transfers structured and unstructured data in just a few clicks.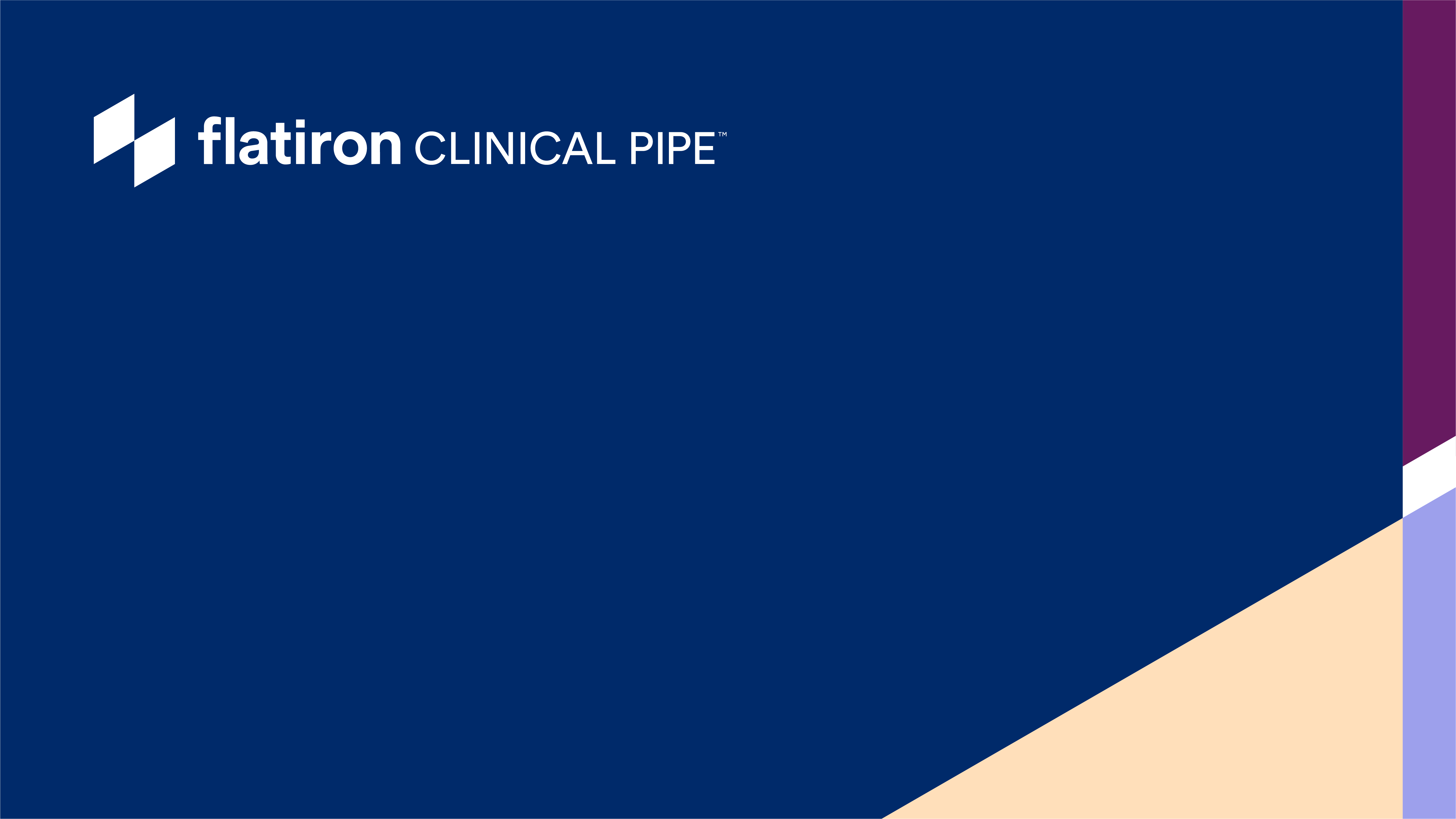 Unlock higher data quality with more efficient data management
One of the industry's first EHR-to-EDC connectors, Flatiron Clinical Pipe™ helps create a new trial experience.
Capture and transfer study data quickly and with accuracy, reduce queries, accelerate data cleaning timelines, and hit study milestones faster.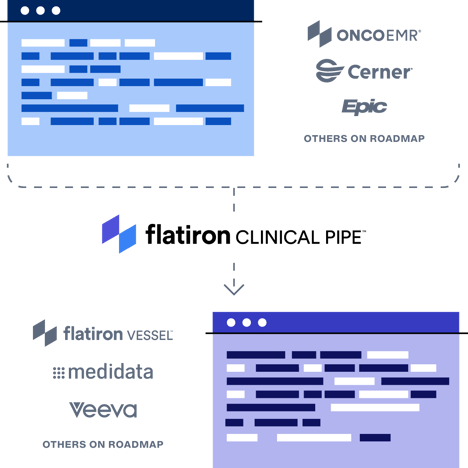 Our product has been in use for over 5 years, giving you confidence in our proven technology
Flatiron Clinical Pipe™ has been used by 35+ sponsors, including the majority of the top 10 pharma companies worldwide
Flatiron Clinical Pipe™ is connected with 85 sites and our site network continues to grow, already achieving 4X growth since 2022
Flatiron Clinical Pipe™ has been used in more than five therapy areas and 15 indications, meaning it's flexible to fit your unique study needs
Pioneering access to both structured and unstructured data
Existing discrete data fields in the EHR, including labs, vitals, and medications.
Trial-specific structured data
Discrete data fields implemented at the point of care for data entry during a patient visit. Examples include adverse events (AEs), medical history, surgical history and more.
Data lacking the structural organization required for off-the-shelf analysis, which is instead processed by Flatiron's industry-leading abstraction team, who have abstracted over 800M data points to date. Includes anything not captured in the first two data types, such as physical exam attributes, smoking status, etc., as needed for the clinical trial.
Streamlining the path to data collection
Rapidly transfer data from EHR to EDC
Transfer data between systems on demand and in just a few clicks. Avoid time-consuming, error-prone, and duplicative data entry tasks, ensure the study stays on track, and start evaluating data sooner.
Achieve your eSource goals
Data transferred with Flatiron Clinical Pipe™ completely mirrors the EMR/EHR, eliminating the need for source data verification (SDV), allowing for transformative efficiency and productivity for monitors, site coordinators, and other members of the study team.
Works with the systems you already use
Flatiron Clinical Pipe™ has pre-built integrations with OncoEMR®, Epic®, Cerner®, Medidata Rave®, and Flatiron Vessel™, with other integrations to popular EMRs, EHRs, and EDCs actively in progress, enabling quick and easy setup.
Maintain strict security and compliance
Flatiron provides strict security, process, and administrative controls to meet SOC-2 and HITRUST CSF requirements, and aligns with HIPAA, GDPR, and 21 CFR 11 regulations.
Experience smooth onboarding and ongoing training
Flatiron ensures high-touch, expert support services for site and sponsor success, including 1:1 training, group training, onsite and virtual support, and dedicated email support.
"Flatiron Clinical Pipe makes a huge difference in getting into the EDC system, period. Regardless of the EDC system we are using."

Dannelle M. Palmer, MBA, PMP
How Flatiron Clinical Pipe™ supports trial teams
Learn how Flatiron Clinical Pipe™ can transform your next clinical trial experience.